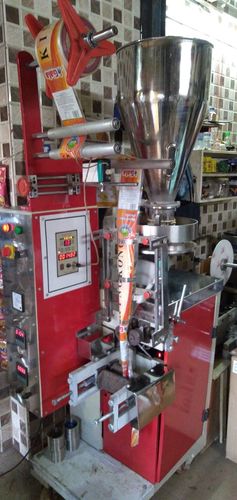 Automatic Tea Packing Machine Price and Quantity
1 Number

285000 INR/Piece
Product Description
Tea leaves are packaged into little bags using this automatic tea packing machine. Up to 150 grammes of tea leaves can fit within. The machine is simple to use and built of stainless steel. It is easily operated and maintained. Our offering features quick operation, automatic feeding, high speed, minimal noise, and more. It is used for packaging components or finished goods. The said machine can perform different levels of automation in the forming, filling, sealing, wrapping, cleaning, and packaging operations. Sorting, counting, and accumulation of tea are done using an automatic tea packing machine. It is accessible in numerous varieties of sizes and features.
Features of Automatic Tea Packing Machine:
Machine equipped with photo Electric Control Systems to adjust and correct the pouch length in
Tailor made to suit specific requirements of each product.
Easy lubrication systems
Easy to operate with minimum man power
Spare parts and services are Available at one notice.
All the gear and sprockets are property heat treated
All the parts in the machines are connected with packing products are made of stainless steels
FAQs of Automatic Tea Packing Machine:
Q: What is an Automatic Tea Packing Machine?
A: An Automatic Tea Packing Machine is a specific piece of gear utilized in the tea business to mechanize the bundling of tea leaves or tea sacks into pockets, boxes, or different sorts of holders. These machines are intended to effectively gauge, fill, seal, and mark tea items.
Q: How does an Automatic Tea Packing Machine work?
A: These machines regularly work by taking care of tea leaves or tea sacks into the bundling system through a progression of computerized advances. The interaction incorporates estimating the ideal measure of tea, filling the bundling material, fixing it to make water/air proof bundling, and alternatively naming the item.
Q: What kinds of tea items can an Automatic Tea Packing Machine handle?
A: Automatic Tea Packing Machines can deal with different kinds of tea items, including free tea leaves, tea sacks, natural teas, and other tea-related items. They can likewise oblige different bundling materials, like paper, foil, or biodegradable materials.
Q: What are the upsides of utilizing an Automatic Tea Packing Machine?
A: The principal benefits incorporate expanded bundling effectiveness, exact piece control, further developed item consistency, diminished work costs, and the capacity to bundle tea items rapidly and expertly.
Q: Are there various sorts of Automatic Tea Packing Machines?
A: Indeed, there are different models and plans of Automatic Tea Packing Machines accessible, each with various highlights and capacities. A few machines are explicitly intended for free tea leaves, while others are improved for tea sacks or different bundling sizes.
Enter Buying Requirement Details
"We Are Only Dealing In Mumbai & Maharashtra."