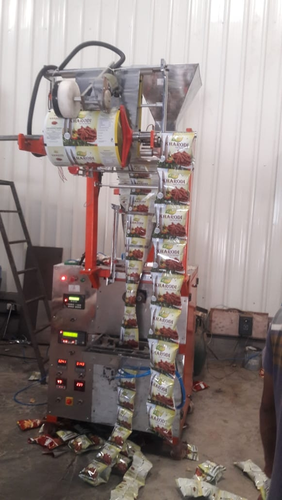 Camphor Packaging Machine Price and Quantity
380000 INR/Piece

380000.00 - 550000.00 INR/Piece

1 Number
Camphor Packaging Machine Trade Information
4 Number Per Month

3 Week

Maharashtra
Product Description
Camphor packaging machine is used for packing camphor. It is accustomed to a funnel and a tube. The tube is filled with camphor using the funnel. The top and bottom of the tube are then sealed. The machine's lid is then closed after the camphor has been added. The camphor is subsequently put into packages by the machine. The machine writes the lot of number and expiration date on the bottom of the tube once the camphor has been packaged. Camphor packaging machine has application in various industries. It packs the camphor after pressing chemical powders, ceramic powders, and camphor powders to create tablets.
Specification of Camphor Packaging Machine:
| | |
| --- | --- |
| Usage/Application | Packaging |
| Packaging Type | Center Seal |
| Brand | AVM |
| Driven Type | Electric |
| Automation Grade | Automatic |
| I Deal In | New Only |
FAQs of Camphor Packaging Machine:
Q: What is a Camphor Packaging Machine?
A: A Camphor Packaging Machine is a specific packaging hardware used to productively bundle camphor tablets or blocks into pockets, sacks, or compartments. Camphor is a glasslike substance with different applications, including as a therapeutic item and for strict or fragrant use.
Q: How does a Camphor Packaging Machine work?
A: These machines work via naturally taking care of camphor tablets or blocks into the packaging system. They measure the ideal amount of camphor, fill the packaging material, and afterward seal it to make impenetrable packaging. The cycle is normally robotized for proficiency and consistency.
Q: What sorts of packaging can a Camphor Packaging Machine handle?
A: Camphor Packaging Machines can deal with different sorts of packaging, including pockets, sacks, and compartments, contingent upon the particular model and setup. The decision of packaging style relies upon the application and client prerequisites.
Q: What are the vital elements to search for in a Camphor Packaging Machine?
A: Significant elements to consider incorporate filling precision, packaging speed, simplicity of support, similarity with various camphor tablet sizes and shapes, the capacity to deal with different packaging materials, and the choice for various packaging styles.
Q: Can Camphor Packaging Machines handle various sorts of camphor items?
Some time Camphor Packaging Machines are explicitly intended for packaging camphor tablets or blocks, a few models might be versatile to deal with comparative items, like other therapeutic tablets or little strong things.
Enter Buying Requirement Details
"We Are Only Dealing In Mumbai & Maharashtra."