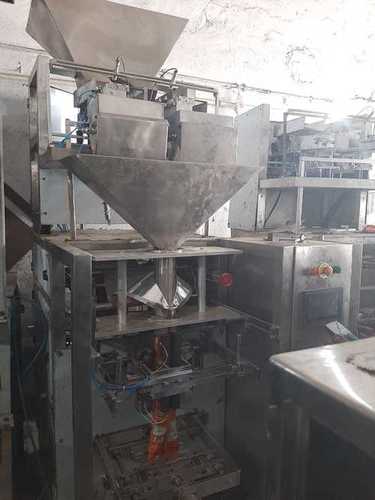 Namkeen Packing Machine Price and Quantity
Product Description
High quality Namkeen Packing Machine is offered by us that is especially designed for packing granules items like Daal, Seeds, Tea, Namkeen, aaloo bhujia, kurkure, Daal, moong daal, singh bhujiya etc. Namkeen is a broad term for salty snacks traditionally consumed in South Asian cultures, covering a range of products including whole legumes such as green peas, chickpeas, peanuts, cashews and many other items. The offered machine is very effective and made for use in the various industrial places that happen to be involved in the packing of various kinds of delicious Namkeen. The Namkeen Packing Machine is very safe for use.
Specification of Namkeen Packing Machine:
| | |
| --- | --- |
| Brand | AVM Packaging |
| Automation Grade | Automatic |
| Phase | Single Phase |
| Packaging Application | Food Items |
| Filler Type | Weigh Filler |
| Packaging Speed | 15-18 Packages per minute |
FAQs of Namkeen Packing Machine:
Q: What is a Namkeen Packing Machine?
A: A Namkeen Packing Machine is a specific piece of hardware utilized in the food business to proficiently bundle namkeen and other nibble things into sacks or pockets. Namkeen is a famous Indian bite known for its different exquisite flavors.
Q: How does a Namkeen Packing Machine work?
A: These machines work via naturally filling a foreordained measure of namkeen into sacks or pockets, fixing them to make water/air proof bundling. The cycle is regularly computerized, guaranteeing reliable and proficient bundling.
Q: What sorts of bundling can a Namkeen Packing Machine handle?
A: Namkeen Packing Machines can deal with different kinds of bundling, including cushion sacks, stand-up pockets, and other pack styles, contingent upon the particular model and design.
Q: What are the vital highlights to search for in a Namkeen Packing Machine?
A: Significant highlights to consider incorporate filling precision, bundling speed, simplicity of support, similarity with various namkeen sizes and shapes, the capacity to deal with different bundling materials, and the choice for various sack styles.
Q: Could Namkeen Packing Machines at any point deal with various sorts of tidbits?
Some time Namkeen Packing Machines are explicitly intended for bundling namkeen, a significant number of them can be changed or designed to deal with an assortment of nibble things, including chips, nuts, and comparable items.
Enter Buying Requirement Details
Other Products in 'Pouch Packing Machine' category
"We Are Only Dealing In Mumbai & Maharashtra."