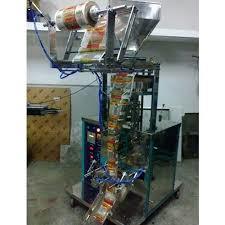 Potato Chips Packing Machine Price and Quantity
Potato Chips Packing Machine Trade Information
10 Piece Per Month

1 Week
Product Description
The offered Potato Chips Packaging Machine is made available by us for use in the various commercial and industrial applications. It is easy to install and operate. The packaging machine is made for keeping the potato chips safe and crispy. The machine also helps in making the chips easy to transport and store at the needed places. The Potato Chips Packaging Machine is very useful and can be used in various places that indulge in the packing of the chips.
Volumetric filler with Coller type machine.(Upto 50 gms)
Electronic Photocell Registration System.
Sealing Unit and Sealer
Paper Pulling by Belt
Paper Guide Rollers - Aluminium
Machine Covering - Stainless Steel
Main Motor (1 H.p) - Crompton
Gear Box - Ultra
Machine Formers - Stainless Steel
PLC - Delta or Micro Processor based PLC Controlled
Single Or Multiple Pouch Cutting Option
Automatic Temperature Controls-Select
All Contact parts made out of stainless steel.
Specification of Potato Chips Packing Machine:
| | |
| --- | --- |
| Pouch Capacity | 10-1000 gm |
| Capacity | 1080 - 1500 Pouch/ hour |
| Brand | AVM |
| Frequency | 50 Hz |
| Voltage | 240 V |
| Body Material | Stainless Steel |
FAQs of Potato Chips Packing Machine:
Q: What is a Potato Chips Packing Machine?
A: A Potato Chips Packing Machine is a specific piece of gear utilized in the food business to effectively bundle potato chips and comparable snacks into sacks or compartments.
Q: How does a Potato Chips Packing Machine work?
A: These machines work via consequently estimating a foreordained measure of potato chips, fixing them in a pack or holder, and frequently removing overabundance air to keep up with item newness.
Q: What sorts of bundling can a Potato Chips Packing Machine handle?
A: Potato Chips Packing Machines can deal with different kinds of bundling, including cushion sacks, stand-up pockets, and unbending holders, contingent upon the particular model and setup.
Q: What are the vital elements to search for in a Potato Chips Packing Machine?
A: Significant elements to consider incorporate gauging precision, bundling speed, simplicity of upkeep, the capacity to deal with different chip sizes and shapes, and similarity with various bundling materials.
Q: Are Potato Chips Packing Machines appropriate for independent ventures?
A: Indeed, there are Potato Chips Packing Machines accessible in various sizes and limits, making them reasonable for little, medium, and huge scope nibble creation organizations.
Enter Buying Requirement Details
"We Are Only Dealing In Mumbai & Maharashtra."