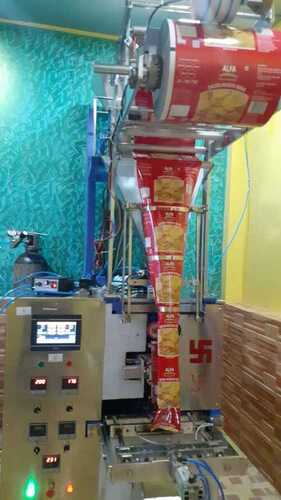 Wafer Packaging Machine Price and Quantity
Wafer Packaging Machine Specification
Pneumatic

200 TO 250 Kilograms (kg)

No

18 gm to 250kg Kg/day

Sterilizer

Blue

Packaging Line

1 YEAR

Chips, Namkeen, Dry Fruits,etc packaging

PLC Control

Automatic
Wafer Packaging Machine Trade Information
Product Description
Wafer packaging machine is a tool used to package and seal wafers. Wafers are tiny, spherical bits of semiconductor material used in the production of electronic components like integrated circuits. The wafers are sealed in a sterile, dry environment by the packaging machine to guard against contamination and damage. Machine is used for packaging components or finished goods. Our machine is for varying levels of automation in the forming, filling, sealing, wrapping, cleaning, and packaging operations. In addition to wafer packing machine, it also contains wafer sorting, counting, and accumulation equipment. It comes in different specifications and designs.
Specification of Wafer Packaging Machine:
| | |
| --- | --- |
| Pouch Capacity | 10-250 gm |
| Capacity | 350 - 400 Pouch/ hour |
| Brand | AVM |
| Frequency | 50 Hz |
| Voltage | 240 V |
| Body Material | Stainless Steel |
FAQs of Wafer Packaging Machine:
Q: What is a Wafer Packaging Machine?
A: A Wafer Packaging Machine is a particular packaging gear intended to productively bundle wafer treats and comparable fragile items into sacks, pockets, or other packaging materials. These machines are much of the time utilized in the food business.
Q: How does a Wafer Packaging Machine work?
A: These machines work via consequently filling a foreordained number of wafer treats into sacks or pockets, fixing them to make impermeable packaging. The interaction is ordinarily computerized, guaranteeing predictable and productive packaging without harming the sensitive wafers.
Q: What sorts of packaging can a Wafer Packaging Machine handle?
A: Wafer Packaging Machines can deal with different kinds of packaging, including cushion sacks, stand-up pockets, and other sack styles, contingent upon the particular model and setup.
Q: What are the critical highlights to search for in a Wafer Packaging Machine?
A: Significant elements to consider incorporate filling exactness, packaging speed, simplicity of upkeep, similarity with various wafer sizes and shapes, the capacity to deal with different packaging materials, and the choice for various sack styles.
Q: Can Wafer Packaging Machines handle various sorts of tidbits?
Some time Wafer Packaging Machines are explicitly intended for packaging wafer treats, numerous them can be changed or designed to deal with an assortment of nibble things, including rolls, saltines, and comparable items.
Enter Buying Requirement Details
"We Are Only Dealing In Mumbai & Maharashtra."