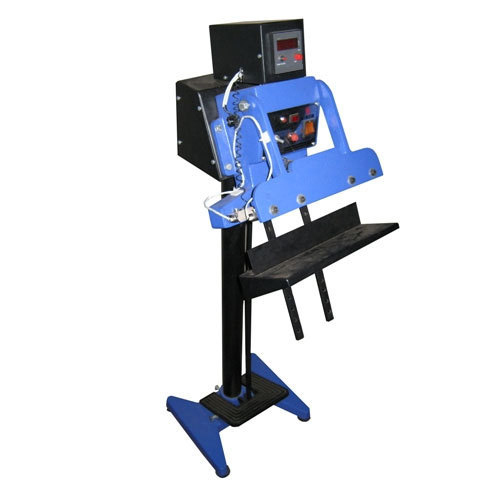 Manual Tube Sealing Machine Price and Quantity
Manual Tube Sealing Machine Specification
Kilograms (kg)

Black And Blue

New
Manual Tube Sealing Machine Trade Information
Product Description
Manual tube sealing machine is used to seal metal and plastic tubes. It is made up of a cutter, a sealer, and a heating element. The tube is heated using the heating element, and sealed using the sealer. The tube is cut with the cutter. A wide variety of product packing applications benefit from the usage of a manual tube sealing machine. Strong stainless-steel fabrication serves as the foundation for the machine's structural integrity. It can pack various diameter with the aid of interchangeable parts. The said product is the best suitable for aerosol cans, bags and pouches, blister packs, bottles and jars, cartons, and boxes.
Specification of Manual Tube Sealing Machine:
| | |
| --- | --- |
| Brand | AVM |
| Voltage | 220 V |
| Body Material | Mild Steel |
| Frequency | 50 Hz |
| Sealing Capacity | 20-30 pieces/min |
FAQs of Manual Tube Sealing Machine:
Q: What is a Manual Tube Sealing Machine?
A: A Manual Tube Sealing Machine is a handheld or tabletop gadget used to seal the finishes of plastic or metal tubes, making a safe conclusion for different items like beauty care products, drugs, cements, and food things.
Q: How does a Manual Tube Sealing Machine work?
A: These machines normally use intensity to dissolve the open finish of a plastic or metal tube, sealing it shut. A few machines may likewise crease or overlay the tube end to make a conclusion.
Q: What kinds of items are regularly fixed utilizing Manual Tube Sealing Machines?
A: Manual Tube Sealing Machines are normally utilized for sealing items like creams, balms, moisturizers, toothpaste, cements, and other semi-fluid or gel-like substances that are bundled in tubes.
Q: What are the upsides of utilizing a Manual Tube Sealing Machine?
A: The fundamental benefits incorporate usability, cost-viability for limited scope creation, exact sealing, and the capacity to make alter clear terminations.
Q: Are there various kinds of Manual Tube Sealing Machines?
A: Indeed, there are different models and plans of Manual Tube Sealing Machines, including handheld models, tabletop models, and machines that can oblige different tube sizes and materials.
Enter Buying Requirement Details
"We Are Only Dealing In Mumbai & Maharashtra."