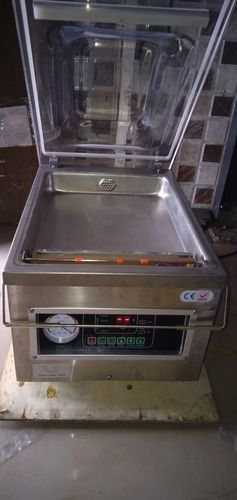 Table Top Vacuum Sealing Machine Price and Quantity
Table Top Vacuum Sealing Machine Specification
New

10 gm to 50 gm, 50 gm to 100 gm Kilograms (kg)

Silver
Table Top Vacuum Sealing Machine Trade Information
Product Description
Table top vacuum sealing machine is an excellent food preservation tool. Food can stay fresher for a longer period of time if the air is removed from the packing. This is a fantastic approach to reduce food waste and expenses. This type of packing for the food, pharmaceutical, marine, chemical, and electronic industries use table-type machines that incorporate automatic processing for vacuuming, sealing, printing, and cooling. All kinds of dry commodities, including cereals and grains, milled goods, coffee, spices, nuts, and beans, can have their shelf lives extended by table top vacuum sealing machine. Foods that are sealed retain their freshness longer.
Table Top Vacuum Sealing Machine Specification:
| | |
| --- | --- |
| Usage | Food Sealing |
| Weight | 20-30 Kg |
| Driven Type | Electric |
| Frequency | 50 Hz |
| Voltage | 240 V |
| Material | Stainless Steel |
FAQs of Table Top Vacuum Sealing Machine:
Q: What is a Table Top Vacuum Sealing Machine?
A: A Table Top Vacuum Sealing Machine is a reduced and portable gadget utilized for eliminating air from packs or compartments and sealing them firmly to protect the newness and time span of usability of different food and non-food items.
Q: How does a Table Top Vacuum Sealing Machine work?
A: These machines work by setting the open finish of a vacuum-sealable pack or compartment in the machine. The air is then taken out from the pack or holder, and when the ideal degree of vacuum is accomplished, the machine heat-seals the sack or compartment to make an impermeable seal.
Q: What kinds of items can be vacuum-fixed utilizing a Table Top Vacuum Sealing Machine?
A: Table Top Vacuum Sealing Machines are usually utilized for sealing food things like meats, organic products, vegetables, and extras. They are additionally utilized for protecting non-food things like reports, dress, and gadgets.
Q: What are the upsides of utilizing a Table Top Vacuum Sealing Machine?
A: The fundamental benefits incorporate expanded time span of usability for transient things, counteraction of cooler consume, decreased food squander, and the capacity to rapidly marinate food sources. It's likewise a convenient instrument for sorting out and safeguarding non-food things.
Q: Are there various sorts of vacuum sealing packs or rolls accessible for use with these machines?
A: Indeed, there are different vacuum sealing packs and rolls accessible, including various sizes and materials like standard plastic, finished sacks for better air extraction, and sacks suitable for sous-vide cooking.
Enter Buying Requirement Details
Other Products in 'Vacuum Sealing Machine' category
"We Are Only Dealing In Mumbai & Maharashtra."